Sometimes we may not notice, but our face and neck tend to seem of two different colors! It may be due to hormonal changes, prolonged sun exposure, poor hygiene, pollution in the environment, fungal infections, diabetes and obesity or other skin conditions. Dark necks may generally not seem a great concern, but they can actually make us loose our confidence in our appearance, if we had frequently observed that our neck have dark patches.
You can get rid of this dark neck condition, without having used chemical treatments by applying these home remedies, which are effective, when used regularly.
Here are 7 remedies that make you rid of dark neck.
1. Cucumber and Lemon
What to do:
Mix equal parts of both cucumber and lemon juices, Use a cotton ball to apply on the neck.
Leave for 10 minutes and then rinse with water.
For best results, apply everyday.

Benefits-
Cucumbers are very soothing for the skin, leaving the skin glowing, fresh and rejuvenated. When mixed with lemon juice, which provides citric acid and Vitamin C, it helps in lightening any kind of pigmentation.
2. Oats and Tomato Puree
What to do:
Mix the oats and Tomato puree until you get a paste.
Apply in desired areas and then leave for 20 minutes.
Scrub it off and rinse with cold water.
Dry it up and moisturize well. Do this twice a week.

Benefits-
This remedy works really well to exfoliate the skin as tomatoes are said to have proven a great way to reduce tanning and toning the skin. Moreover the nutrients in tomatoes are said to help restore the skin's natural color and help fight pigmentation.
3. Gram flour and Turmeric
What to do:
Take desired amount of gram flour and turmeric (according to the dark patches), make it into a paste using water.
Apply on the areas with hyper pigmentation and leave it about 20 minutes until it dries.
Run your fingers under water and scrub the mask off.
Rinse, pat dry and moisturize well. Do this three times a week for better results.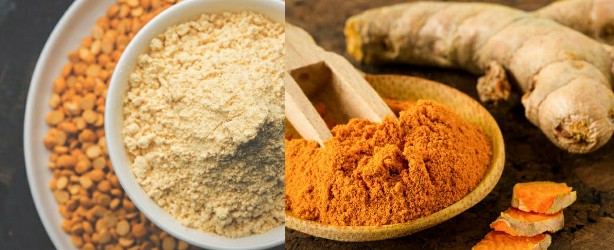 Benefits-
Turmeric has antiseptic and anti fungal properties and is great for treating the skin for fungal infections that may cause a dark neck.
Gram Flour is a great scrub and works very well to remove dead skin cells that cause darkening of the neck.
4. Baking Soda
What to do:
Make a paste with one part of water and three parts of baking soda.
Use on your neck evenly and rinse it off after 10 minutes.
Best results will be seen if done at least twice a week.

Benefits-
Baking soda is very good for healing any kind of hyper pigmentation and is one the best natural way to get rid of dark neck and armpits, as it is an exfoliant and helps in cleaning of dead skin cells.
5. Aloe Vera
What to do:
Cut the leaf open and rub the aloe vera gel directly on to your neck.
Gently massage it on your skin. Let it sit for 20 minutes and then rinse with cold water.
Do this once everyday for effective results.

Benefits-
As we all know aloe vera does wonders on our skin, Rich in antioxidants and being a natural skin lightener and brightener, it can stimulate skin repair and production of new cells.
6. Potatoes and Lemon juice
What to do:
Mix the desired amount of potato and lemon juice and apply on the area of hyper pigmentation.
After 15 minutes, rinse with cold water.
Apply everyday for positive results.

Benefits-
Potato contains an enzyme, catecholase, that can bleach and lighten the skin. Also with the Vitamin C containing lemon juice, it helps brighten the skin and fights off pigmentation.
7. Orange Peel and Milk
What to do:
Sun-dry the orange peel and then grind it into a powder.
Mix the powder with either whole milk or orange juice until it forms a paste.
Apply this on any Hyper pigmented area, leave it for 15 minutes.
Rinse with water and apply this mask daily.

Benefits-
Orange peel is very rich in Vitamin C, which is the key to remove sun tan from face and neck. Also if you use milk, it will moisturize the skin, making it soft and glowing.
Use these remedies to get rid of the dark neck and flaunt your skin with even color on face and neck!