Are you worried about your hair? If you are one of those who are concerned about your hair health and at the same time wants to avoid harsh chemicals, then this post will definitely fascinate you!
In this busy and hectic life we are all in a hurry to grow. Sometimes it is not so easy to take care of our hair or to put up with hair routines at night to wash off the next day that results in dry, dull and slowed down growth of our hairs.
So, to keep your hair healthy and growing and provide nutrition to your hair instantly just before shower, here are some hair masks you definitely need to try before shampooing your hair.
1. COCONUT OIL + HONEY + LEMON 
Preparation:
Take 2 Tbsp coconut oil and lukewarm it. add 1 Tbsp of honey and 1 Tsp of lemon juice
Apply evenly on hair and leave it for 30-45 minutes.
Wash off with shampoo.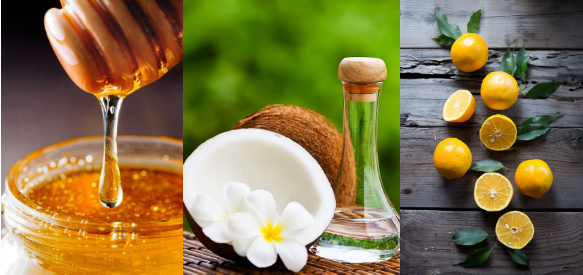 Benefits-
Coconut oil-   You will definitely get shiny, silky and smooth hair. As coconut oil promotes the scalp health fighting against dandruff and dryness. It moisturizes dry hair and adds luster, shine and softness to hair. Coconut oil prevents hair breakage and split ends, contributing to hair length.
Honey-  Honey has both emollient and humectant properties making it a great hair moisturizer. Emollients smooth the hair follicles, adding shine to dull hair. humectants have the ability to bond with water molecules adding moisture to dry strands. By moisturizing and locking in shine, honey can help restore the natural luster of your hair.
Lemon- Lemon contains many nutrients that strengthen the hair follicles and encourage new hair growth. Its acidic nature deeply cleanse the scalp creating healthy pH levels and remove buildup of chemical products, oil and pollution.
2. OLIVE OIL + BROWN SUGAR + HONEY 
Preparation:
Take 2 Tbsp olive oil and 1/2 Tbsp of honey in a bowl, add 2 Tsp of brown sugar.
Mix well and apply evenly on hair and scalp.
Leave for 30 minutes and rinse with a shampoo.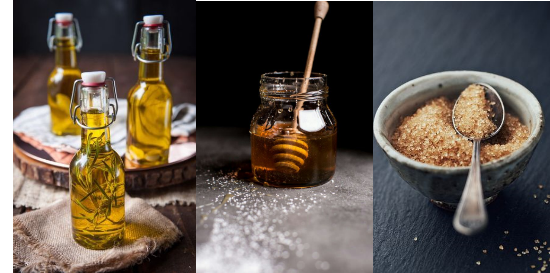 Benefits-
Olive oil- No need for a conditioner as Olive oil acts as a conditioner.
Olive oil could add softness and strengthen hair by penetrating deep into the hair and preserving moisture.
It provides shine to your hair due to the oil that smoothens the outer cuticle of the hair.
Brown sugar– Brown sugar the star ingredient in this recipe , will exfoliate the scalp removing dead skin cells and exposing newly unclogged skin.
3. COCONUT OIL + CINNAMON + HONEY 
Preparation:
Take 1 Tbsp coconut oil, lukewarm it and add 1 Tbsp honey and 1 Tbsp of ground cinnamon.
Mix and apply evenly on hair and scalp. Leave for 30-45 minutes.
Rinse with shampoo and mild conditioner.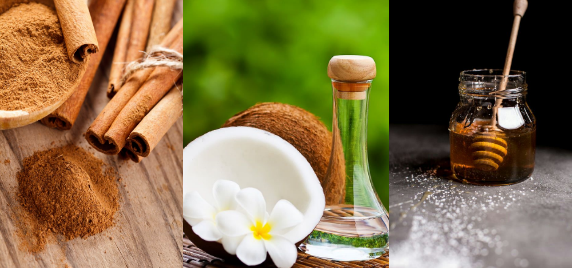 Benefits:
Cinnamon– The star ingredient cinnamon in this recipe can clean and nourish your scalp by acting as an exfoliate and improving blood circulation to the scalp as well as providing oxygen to nourish the hair follicles.
4. RICE WATER
Preparation-
Take 1/2 cup rice, add water and put them in a sauce pan , leave it on low flame.
After 7-8 minutes strain the water and allow it to cool.
Apply thoroughly on hair and massage on scalp. Leave for 45 minutes.
Rinse with a mild shampoo.
Or
Take 1/2 cup rice in a bowl and fill it with water.
Leave overnight. Apply the water in the morning and wash off.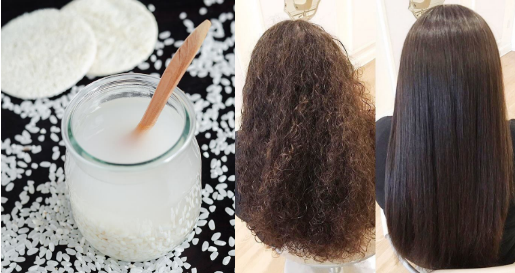 Benefits:
Rice water-  Regular use of rice water has many benefits, it helps to remove dandruff, strengthen the strands, stimulate hair growth, give vitality and significantly improve the hair appearance.
The composition of rice water is rich in vitamins, especially B and C.
5. EGG + LEMON + OLIVE OIL 
Preparation-
Take 1 egg, add 1 Tsp lemon juice and 1 Tsp olive oil.
Mix well and apply evenly on hair and scalp.
Leave for 40-45 minutes. Rinse.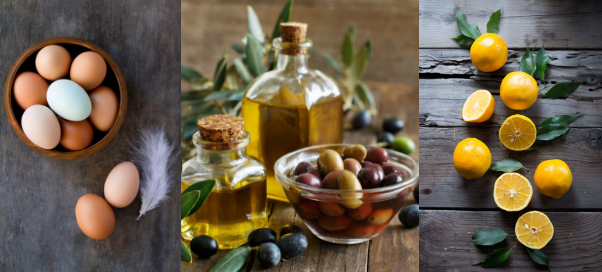 Benefits:
Egg– The egg yolk maybe especially useful to moisturize hair that appears dry. Egg yolk is a super nutritious food to your hair due to the unique combinations found inside. Vitamins A and E, biotin and folate found in it promotes hair growth.
6. CURD + LEMON 
Preparation-
Take 2 Tbsp curd and add 1 Tsp lemon juice to it.
Mix well and apply it on hair and scalp.
Leave for 30-35 minutes. Rinse.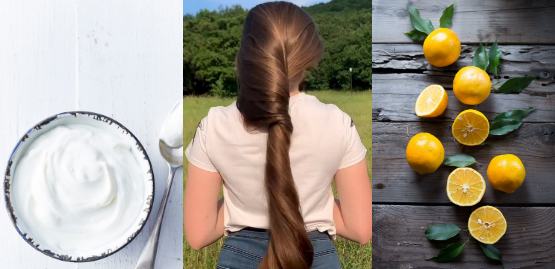 Benefits:
Curd– Curd helps in the treatment of scalp conditions like dandruff and dead skin, as well as to help soften and strengthen the hair cuticle.
7. GREEN TEA + APPLE CIDER VINEGAR
Preparation-
Firstly brew the green tea in hot water, discard the leaves/tea bags and pour the tea in a storage container with a lid.
Then add apple cider vinegar, also add rosemary or any other essential oil if you want to.(optional)
Tighten the lid and shake to combine all the ingredients. Let them cool to use them.
To use this you have to first wash your hair with warm water, then massage this on your scalp and hair evenly and soak for 10 minutes. Rinse with mild shampoo or conditioner.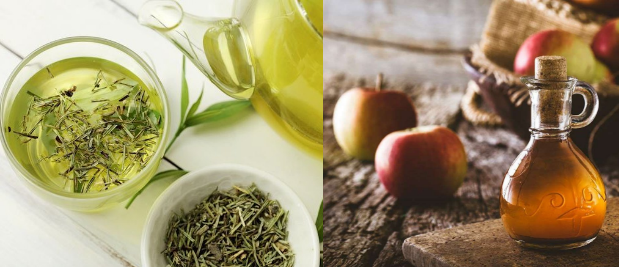 Benefits:
Green Tea– Green tea is a fantastic anti oxidant and natural antiseptic. It can help restore balance and sooth irritated skin. It can help stimulate hair growth, reduce shedding and calm dandruff and psoriasis.
Apple cider vinegar–  Apple cider vinegar aids in supporting healthy skin and hair. Used topically on the scalp it exfoliates dull,dry skin, adds body to your hair and makes it nice and shiny.
It also restores the pH balance and its anti fungal property helps in preventing scalp damage and dandruff.
8. BANANA + YOGURT + HONEY
Preparation-
Take 1 Tsp of crushed banana, add 2 Tsp of yogurt, add 1 Tsp honey Mix them in a bowl.
Apply on hair evenly. Leave for 25-30 minutes. Rinse.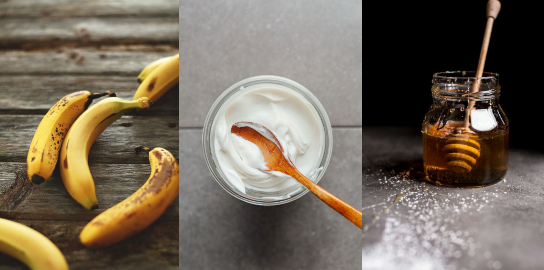 Benefits:
Banana– Banana are good for your hair and scalp. They are known to prevent and control dandruff and moisturize our scalp. Bananas are rich in potassium, natural oils, carbohydrates and vitamins, which help soften our hair and protect their natural elasticity.
Yogurt– Yogurt is full of protein that offers nourishment, which the hair needs for proper growth and health. It has lactic acid that is great for cleansing the scalp and clearing away the dead skin cells to help your hair grow properly. Yogurt is known for its smoothing properties.
To know more about natural hair packs watch this video.