As we all know, the benefits of including fruits in diet are innumerous. But do you know they can help your face and skin to get rid of many problems?
Papaya proves to be a savior for all your major face and skin problems. Apart from it's various health benefits, papaya can actually nourish your face and give you the natural glow you've been longing for!
Papaya can be extremely good for skin as it is a rich source of Vitamin A and C, also contains beta Carotene. Papaya contains a special enzyme called papain, that fades dark spots, blemishes and cures skin impurities.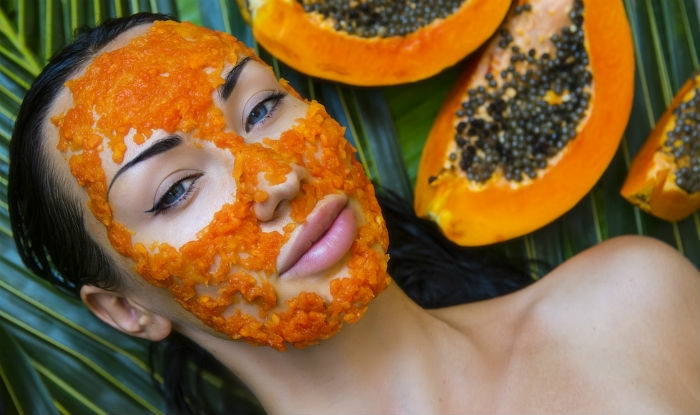 The papaya enzymes papain along with chymopapain can decrease inflammation. The protein dissolving papain can be found in many exfoliating products. But it is the best when used naturally, it can help reduce acne by removing dead skin cells that clog pores. Papain can also remove damaged keratin that can build up on the skin and form small bumps.
Papaya juice has amazing skin clearing properties that will help reduce your susceptibility to acne, it's anti oxidants prevents wrinkles and make the skin glow, it also removes access of oil from the face making your skin soft and clear.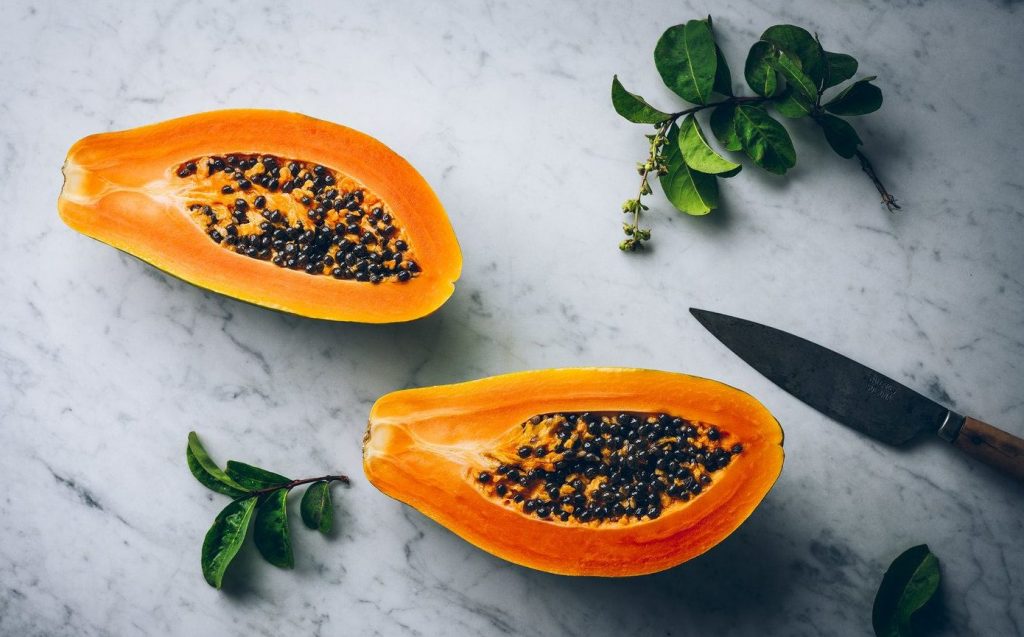 Here are the benefits our skin gets from papaya:
Papaya is said to act as a mild exfoliator to gently remove dead skin cells, improve skin tone, and lightens dark spots and blemishes to reveal radiant and younger looking skin.
Papaya may protect the skin from harmful free radicals responsible for premature ageing.
Papaya contains flavonoids that makes it an excellent antibacterial and antifungal agent.
The potassium content in papaya can help hydrate the skin and prevent it from becoming dry or dull.
It helps increase collagen production in the skin, making it soft, firm and moisturized.
It is said to clear dirt and oil that leads to acne and breakout.
The tropical use of unripe papaya can heal chronic skin ulcers and it's protease enzyme promote healing and soothe irritated skin.
It is suitable for all skin types.
Let's have a look on how to apply papaya face masks, and with which ingredient they prove more effective in providing complete nourishment to the skin.
1. Papaya-Honey Mask for Dry Skin.
This honey and papaya face pack is best for those who have dry skin. They both along with milk, makes your dry skin softer.
Honey has immense hydrating properties, apart from it's antimicrobial and therapeutic benefits. It can help keep your skin soft, supple and smooth. Milk contains lactic acid that is proven to help exfoliate the skin.

What you need:
1/2 cup ripe papaya
1tbsp Honey
2 tsp whole Milk
Method:
Chop a papaya into small pieces and mash it. Add 1 tbsp honey and 2 tsp of whole milk to it.
Mix it well to obtain a paste like texture.
Apply the pack on face and neck, leave it for 15-20 minutes.
Wash with cool water. Apply 2-3 times in a week for best results.
2.Papaya-Lemon-Honey Mask for Acne Prone Skin.
If you get those red bumpy acnes quite often then you should try this mask. It will help prevent the arrival of unexpected acne on your acne prone skin.
The enzymes in papaya combined with the astringent properties in lemon juice along with the antimicrobial properties of honey, helps to cleanse the skin and unclog pores, killing harmful bacteria.

What You Need:
1/2 cup ripe papaya
1 tsp lemon juice
1tsp honey
1 tsp sandalwood powder
Method:
Cut the papaya into small pieces and mash them, Add lemon juice and honey.
Mix well and add sandal wood powder. Ensure that sandalwood powder has no lumps.
Apply evenly on face and neck. Leave for 15 minutes to dry. Rinse with cold water.
The longer you make the paste dry on your skin, the better it will make your skin.
Repeat this remedy once in 3-4 days.
3.Papaya-Orange Mask for Oily Skin.
Oily skin may be the reason for pimples and itself causes problems. If you have oily skin and you get irritated with it, then use this remedy to get rid of it.
Orange and papaya contain Vitamin C, and the juice is believed to work as a natural astringent and reduce excess production of sebum, making your skin less oily. The nutrients in this mask may also help fight inflammation and both orange juice and papaya are known to have skin brightening properties.

What You Need:
One ripe papaya
5-6 wedges of orange
Method:
Chop the ripe papaya into pieces.
Squeeze the juice from orange wedges and add it to chopped papaya.
Mix them till you get a smooth paste.
Apply on face and neck for 15 minutes. Rinse with cold water.
Repeat twice a week for positive results.
4.Papaya-Tomato Mask for Tanned skin.
If you work in the field and experience frequent tanning, then this mask will definitely relieve you from tanned or pigmented skin or face.
Tomato is widely used for DIY beauty treatments, as it is said to have proven a great way to reduce tanning and toning the skin and minimize pores. Moreover the nutrients in tomatoes are said to help restore the skin's natural color and help fight pigmentation.

What you need:
Pulp of 1 tomato
4 small cubes of ripe papaya
Method:
Mash the papaya cubes and mix it with the tomato pulp.
Mix it and make a paste-like texture.
Apply evenly on face and neck, covering all the tanned portions.
Let it sit and dry for 20 minutes.
To remove it, rub it with moist hands in circular motion, and then rinse well with lukewarm water
Repeat 2-3 times a week for effective results.
5.Papaya-Cucumber-Banana Mask for Irritated Skin
If you are skin sensitive and a bit of dirt or pollution makes your skin irritated, or you get frequent sun burns, then try out this mask to relieve your irritated skin.
Cucumber helps hydrate and soothe the skin, also exhibit skin whitening properties and an anti-acne effect by reducing excess sebum. Banana is rich in potassium possess high hydrating qualities making it perfect for skin.

What You Need:
1/4 cup ripe papaya
1/2 cucumber
1/4 cup ripe banana
Method:
Cut the cucumber into small pieces, blend it with papaya and banana, until smooth.
Apply on face and neck and let it sit for 15 minutes.
First rinse it with warm water and then give it a final rinse with cold water.
Using it once a week will soothe you from irritated or sunburnt skin.
6.Papaya-Egg White Mask for Anti ageing / Tighten pores.
If you experience wrinkles and premature ageing on your skin, then don't worry. This papaya face mask will tighten your pores and give your face elasticity. The protein in the egg boosts the skin elasticity, egg white naturally feels tight on skin when it dries after application. This way it could help tighten the pores and tone the skin.

What you Need:
1/2 cup ripe papaya pieces
One egg white
Method:
Mash the papaya pieces and set aside
Whisk the egg white until it becomes fluffy.
Fold in the papaya gently and apply on face and neck
Leave for 15 minutes till it becomes dry and then rinse it off with cold water.
Repeat this once a week for best results.