Rose, a symbol of love. We all glow and feel elated when we receive roses from our loved ones. But do you know? Water extracted from rose can be useful in so many ways for our skin and health, apart from providing emotional satisfaction to our mental health, it can add to our physical and physiological health also. So check out the various benefits we get from rose water.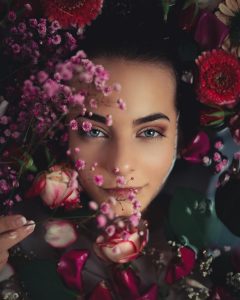 We all have a heart for those ruby red roses but do you all know apart from exciting us these roses prove useful for our body, health and mind in various ways.
Rosa of the family Rosaceae commonly called rose is plucked and water from it is extracted from various process like distillation to name a few.
To make rose water at home just follow these simple steps:
Remove petals from stem and run them under lukewarm water to remove any residue.
Add petals to a large pot and top with distilled water to cover.
Over medium low heat bring the water to a simmer and cover.
Pour the water in a clean container leaving behind the petals.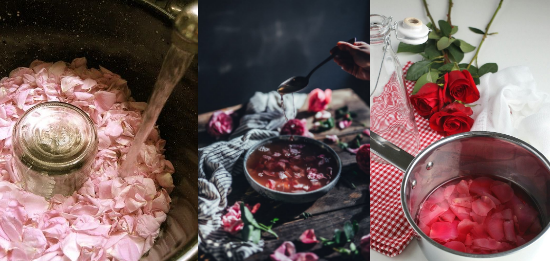 Your pure Rose Water is now ready to be used.
Here are some benefits of rose water.
1. SKIN TONER
Rose water can actually help in making your skin glow, it helps hydrate, revitalize and moisturize the skin giving it a refreshed look.
Due to it's astringent like properties, rose water helps clean pores and tone the skin.
Just apply rose after after steaming, it tightens the capillaries giving you a natural glow.
2. SOOTHES SORE THROAT
It is actually a surprising fact that rose water can treat sore throat. It has been traditionally used to sooth sore throat.
Due to it's soothing and anti inflammatory effect rose water can be taken to reduce a sore throat, it acts as a relaxant on the muscles of the throat.
3. REDUCE REDNESS ON SKIN
Rose water contains excellent anti-inflammatory properties which helps in treating many ailments both external and internal.
From thousands of years rose water have been used to beautify the skin. It is used on any kind of redness as its anti inflammatory property removes redness and puffiness on skin. It helps in maintaining the skin's pH balance
4. CONTAINS ANTI OXIDANTS
Rose petals and rose oils contain powerful anti oxidants that protects cell from damage. These anti oxidants have potential lipid peroxidation inhibitory effects that results in the powerful cell protection. It is due to this property of rose water that it can help to strengthen skin cells and regenerate skin tissues.
5. HEALING PROPERTY
Rose water has antiseptic and anti bacterial properties that can help wound heal faster. They can help fight off infections of cuts and burn and also it can heal scars, cuts or burns faster.
So next time apply rose water to heal a cut or a burn.
6. IMPROVES HAIR QUALITY
Guess what? Applying rose water to hair can actually save us from using those harmful chemical treatments to improve our hair quality.
The nourishing and moisturizing properties of rose water can help to reduce many hair problems, improving the quality of our hair.
Rose water is known to treat mild scalp inflammations and also get rid of dandruff. It acts as a natural conditioner and revitalizes hair growth.
Just massage on hair and scalp while washing your hair and see it's wonders, but only with regular use!
7. MOOD ENHANCER
Rose water contains strong antidepressant and anti anxiety properties. The soothing aroma of rose petals can relax the central nervous system resulting in a good, stress free mood. It helps you get rid of feelings of anxiety and stress, promoting emotional well being.
8. RELIEVES HEADACHE
Just as rose water relieves stress and anxiety it is quite often used to relieve a headache.
Rose water and rose essentials are used in aromatherapy to help relieve headaches and migraines. Just apply a compress soaked in rose water to the head for 45 minutes or apply rose water on a piece of cloth and keep it on forehead. It helps you and gives a relieve in severe headaches.
Just sprinkle some rose water near the pillow before sleeping if you can't sleep due to a headache. It will help you in a sound sleep.
9. ANTI AGING
Rose water is commonly found in beauty products aimed to reduce wrinkles. As it tightens the blood capillaries, it helps reducing aging of skin, by keeping fine lines and wrinkles away.
Just apply rose water on your face and massage it thoroughly before bed each night, or massage it on face after taking steam. You won't use any beauty treatment for aging for sure after this rose water therapy.
10. SOOTHES DIGESTION
In folk medicinal remedies and from a thousand of years rose water has been used to aid in digestion and reduce digestive upsets. It improves bile secretion hence creating a healthy digestive system.
The consumption of rose water can also work as a laxative, it increases the amount of water in the feces, making it beneficial for constipation.
You just need to add some fresh rose petals in a jug full of water and have it to ease digestion.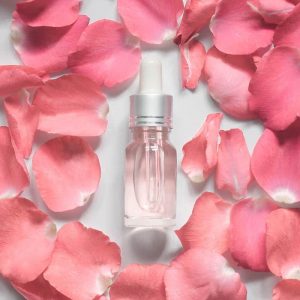 Get all these benefits from rose water by adapting small habits mentioned above and make your skin, hair, health and life, hearty and refreshing!