Have an important function to attend ? or Going out for party ? Suddenly a red bump arises. Ohh gosh ! To save yourself from these situations check out this list of home remedies that can help to reduce and prevent pimples effectively.
It is most common for a pimple to arise anytime especially for teenagers. These red bumps not only lowers our confidence but also our excitement of attending any public gathering. Every one knows their skin and things that suit their skin and cause harm in one way or the other. So to prevent pimples or their scars and treating them from growing further, here is a list of some home remedies that will surely work in your favor and further beautify your skin.
1. NEEM PASTE
From the ancient period azadirachta indica or in normal language neem tree, is considered to have many health and skin benefits. Early age humans used neem paste to heal wounds, cuts and burns. Nowadays, in many parts of Asia, neem tree leaves is used for various health benefits. Also the bark of neem tree produces natural gum that is used for many purposes.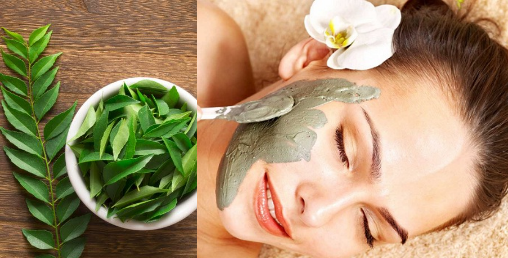 Neem contains anti bacterial properties and ails many infections. It plays a major role in clearing skin acne.
Using neem water as a skin toner regularly will help in clearing acne, scars, pigmentation and blackheads.
Directions for use:
Boil about 20 neem leaves in half a litre of water till the leaves are soft and discolored and the water turns green.
Strain and store in a bottle. Dip a cotton ball into it and wipe your face.
Use it regularly for best results.
2. NUTMEG PASTE
In traditional cuisines, Nutmeg, a spice known for its great aroma and flavor is added. It not only gives flavor to the dish but also contains many health and skin benefits. No doubt why it was used by our ancestors in their dishes, it was the reason due to these types of ingredients that they lived a long and healthy life.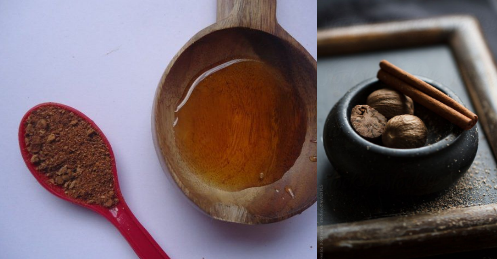 Very rarely we know that nutmeg can help us in our skin problems. Nutmeg contains anti oxidants that help us fight off against free radicals preventing cell damage, it also have anti inflammatory properties.
Directions for use:
Take a pestle and add few drops of water into it.
Take a nutmeg and rub it in water in the pestle. You will get a brown paste.
(Just add few drops of water for the consistency of paste)
Apply this paste on pimples or scars and leave it overnight. Use it regularly for clear skin.
3. ALOE VERA GEL
We have heard many times that aloe vera gel is beneficial for various purposes. So why not we try it, going for natural aloe vera gel is much more advantageous than using those harmful and harsh chemical containing face creams and products.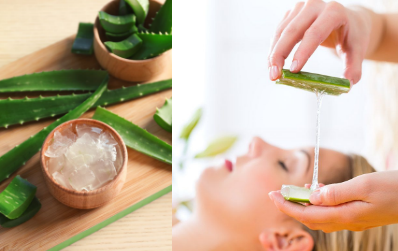 The soothing and refreshing aloe vera gel can create wonders to your skin. You can plant your own pure aloe vera in your garden or keep in the balcony, just take care of the plant and it will give you wonderful skin.
You just have to apply aloe vera gel generously to your face in place of a cleanser, you'll be boosting the blood flow in your skin and killing off harmful bacteria. You can also spot-treat your acne breakout areas.
Directions for use:
Squash out some gel out of the aloe vera according to your need.
Apply on pimple prone areas or on scars , leave it overnight.
Wash it off in the morning, use regularly to reduce redness and skin irritation.
4. TURMERIC PASTE
The use of Turmeric has been recorded from several years. Now also Turmeric is used as a spice in many dishes, it not only adds a beautiful yellow color but also adds to the nutritive value. Apart from its use in food, turmeric is of great medicinal value to our skin and health. Do you know it can prevent heart diseases, strengthen our immune and of course, provides a clear and glowing skin.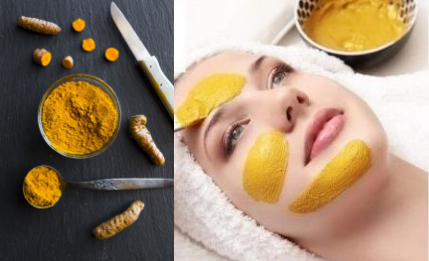 Turmeric is known for its super anti bacterial and anti inflammatory properties. With its use on skin it has created wonders from thousands of years. Traditionally it is considered as an important ailment for other uses like healing wounds and infections.
Lets see how turmeric helps you get clear skin.
Directions for use:
Take 1 Tbsp aloe vera and 1/4 Tsp of turmeric mix both of them.
Apply on pimple affected areas and leave it on for 15 minutes and then wash off.
Use this pack for at least three-four times in a week to see positive results.
With the regular use of these remedies you can reduce the chances of getting pimples and also make your skin look glowing, healthy and beautiful!