As we age, our skin quality and texture starts diminishing for many reasons, and it can feel like looking radiant and wrinkle free becomes impossible, as it could be a great expense going to a salon frequently. We may get temporary treatment by hiding our wrinkles and applying a coat of radiant foundation quite often, but it only degrades our skin quality.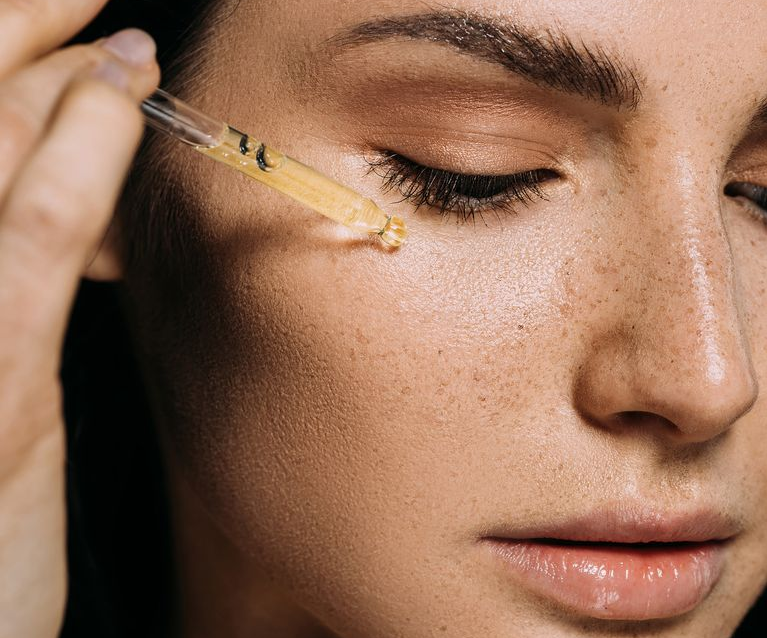 But luckily, it turns out that nature has all the things that we need to maintain a healthy, youthful glow as time goes along. With this thought, we introduce you to 5 essential oils that can help rejuvenate your skin and can prevent fine lines and wrinkles.
Have a look at these essential oils!
1. Geranium Oil
Geranium essential oil is derived by steam distillation of the leaves of Pelargonium graveolens, a plant which is native to South Africa. Geranium oil is thought to have antioxidants, anti bacterial, anti inflammatory, and astringent properties, that help to treat various skin conditions.
The astringent properties of geranium oil helps in toning your skin and keeping it youthful and make you look younger. It also contains fatty acids, that are required to nourish our skin cells. The more healthier and nourished your cells are, the younger you will look. It also helps to keep your respiratory, digestive and endocrine systems in proper function by making the endocrine glands to release certain hormones, which results in a healthier skin.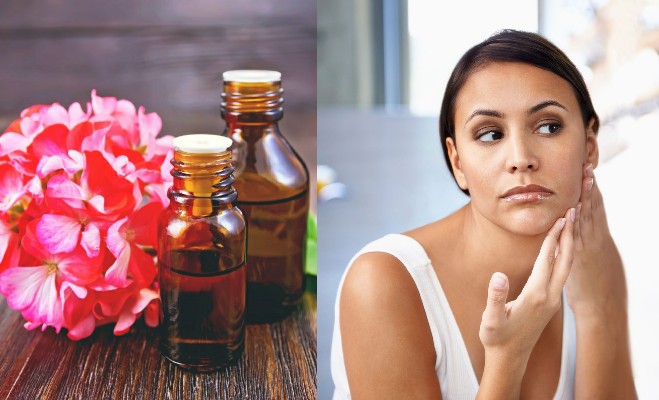 To Use:
Just add 2 drops of geranium oil into your face lotion and apply it twice daily, massage the lotion lightly. After few weeks you will notice your wrinkles fading away.
To tighten most of the skin area make a massaging oil of 5 drops geranium oil into 1 tbsp of jojoba carrier oil and concentrate and massage on the areas where needed.
2. Carrot Seed Oil
Carrot seed oil is an essential oil which is extracted from the seed of the Daucus carota plant. When added to carrier oils like coconut or jojoba oil, carrot seed oil has antimicrobial, antioxidant, and anti inflammatory properties, that improve skin health and can even prevent aging.
Carrot seed oil is considered to be one of the best oils to nourish and regenerate skin tissues. It removes toxic build up from the skin, improving the complexion, removing dead skin cells and it's antioxidant containing property help in preventing aging by stopping the breakdown of healthy cells of the skin. It is also effective on scars, burns, blisters or on dry skin.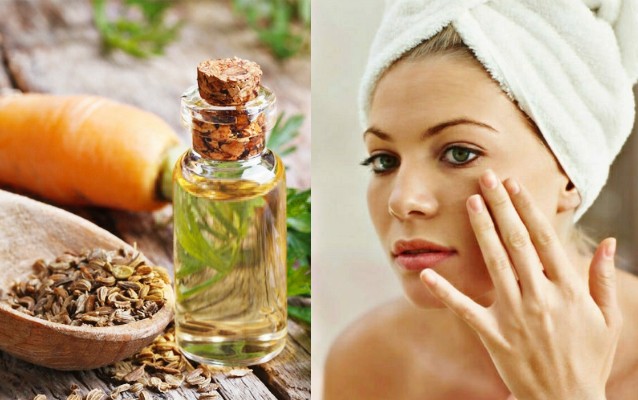 To Use:
Add 12 drops of carrot seed oil to 30 ml of carrier oil such as coconut oil, lotion, vegetable butter, or moisturizing cream. For best results massage on face before sleeping regularly.
3. Argan Oil
Argan oil is made from the kernels, that grow on argan trees, which are native to Morocco. This purely natural oil is not too heavy nor too light so, is suitable for all skin types.
Argan oil is rich in essential fatty acids, and contains moisturizing, anti-aging, and antioxidant properties. It is considered as one of the best anti aging product as it tightens the pores and increases the elasticity of the skin because of it's high linoleic content. It is also a rich source of vitamin E, that helps to diminish scars, redness and inflammation on the skin.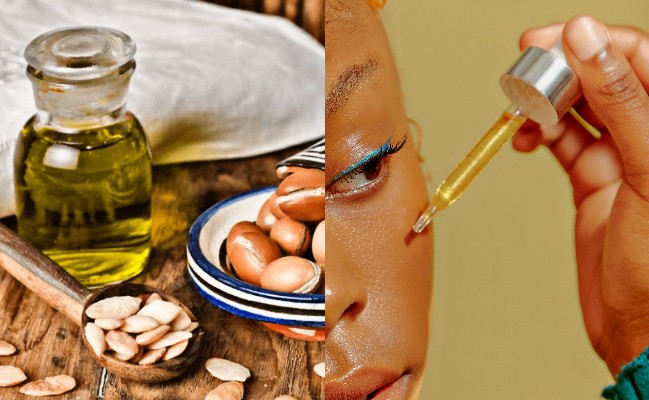 To Use:
For a visible anti aging effect,  massage a few drops of argan oil on your face and neck before bed. It not only will act as a moisturizer but also as an anti aging cream.
4. Rose Oil (Rosehip oil)
Rose oil also known as rosehip oil, is derived from the small fruit that is found beneath the rose. This seed oil contains various healing properties and has been used since many years for natural medications.
Rosehip or rose oil contains high level of vitamin A, which increases skin-cell production and reduces wrinkles, It's vitamin C content helps to even skin tone and also help in decrease hyperpigmentation. Also Rosehip oil increases collagen production and skin elasticity. Apart from A and C, it also contains vitamins B1, B2, B3 and vitamin K, that are known for regenerative and healing properties for skin.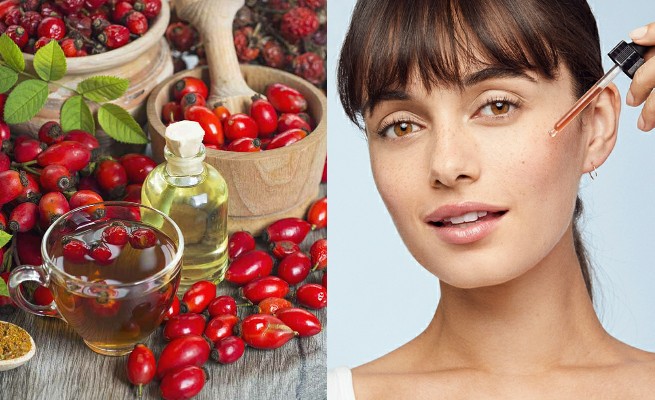 To Use:
Just add few drops of rosehip oil into your regular moisturizer or face lotion, apply it twice daily. You can also cleanse your face with rose water and then apply this oil for the best results.
5. Sandalwood Oil
Sandalwood oil is extracted from the sandalwood tree, which is native in India, Bangladesh, Australia, Indonesia, Hawaii and other pacific lands. It has a highly pleasing and earthy smell. It has impressive beauty benefits, especially when it comes to aging.
Sandalwood essential oil is high in antioxidants which helps your skin to fight free radicals that causes age-related skin damage. It also has moisturizing properties due to naturally occurring moisturizers that help to keep the water in the skin intact , also they reduce the appearance of wrinkles by acting as a filler. As an antiseptic and astringent, it helps to clean pores and reduce inflammation in mild skin irritations.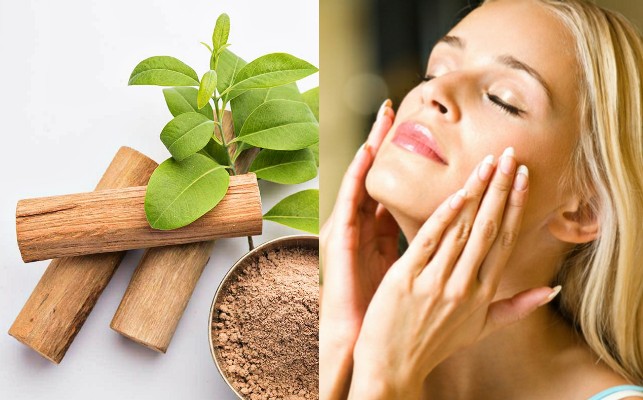 To Use:
Make your own anti aging cream, by adding just 5 drops of sandalwood oil to your regular face oil or moisturizer. Sandalwood oil is extremely concentrated so always use a carrier oil or lotion before applying it.
Use these brilliant essential oils and give your skin a natural punch to fight off aging!
Watch this video on some amazing oils to prevent skin aging.